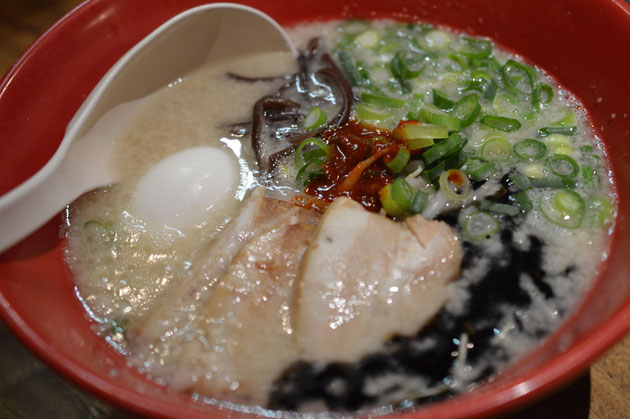 You can find Ippudo in New York, Austraria, Malaysia, China, Hong Kong, etc. Which means this ramen is successful worldwide, and it is worth it to eat this ramen.
The name "Ippudo" is named by the founder in his will to bring revolution to the ramen (which in Japanese expressed as "bringing in a new wind (Ippu)"). Ippudo in fact, became one of the most famous ramen restaurants in Japan in a revolutionary way.
One of the peculiarities of Ippudo, is the popularity from women. The taste of the ramen is very delicate and mild. Before Ippudo started Tonkotsu ramen, it was common that it had strong smell and taste. Ippudo's ramen did not have the strong smell, but still rich in taste.
You can also see from the picture that the restaurant is clean, and the tea served here is rooibos tea, a type of herbal tea, so that the customer can eat Tonkotsu ramen in more healthily.
These are the reasons why it became popular to women.
Here, you can choose the type of soup from White (Mild) and Red (Hot), but we recommend you to try Red and add an egg. You can also order how hard you want the noodle to be, how salty you want the soup to be, etc.
Take a sip and you will want sip after sip. That's how good this ramen is.
Ultimate Dish : Akamaru Shin-Aji topped with Egg (赤丸新味 玉子入り)  
Price: 880Yen 
Restaurant :  Hakata Ippuudo  
Nearest Station :  350m from JR Okachimachi Station North Entrance(200m from Ueno-Hirokoji Station/Nakaokachimachi Station/Ueno Okachimachi Station Exit2)