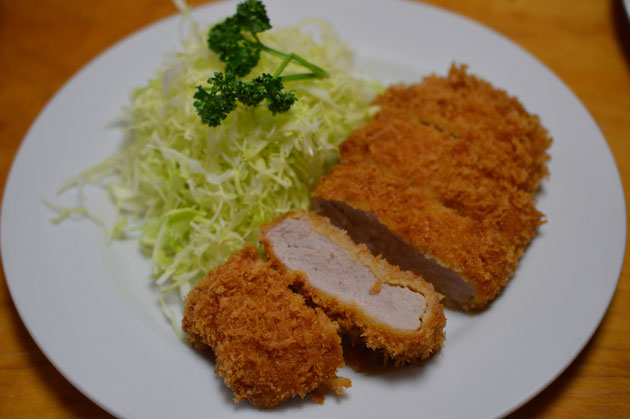 "Cut with chopsticks".

Here, you should definitely try the set of HireKatsu (Fillet Cutlet: 1,800yen) which includes rice, cabbage, miso soup and a small dish of traditional Japanese salad.
The Tonkatsu (Pork cutlet) here is well known in Tokyo for the tenderness that can be "cut with chopsticks". It has become so well known that being able to "cut with chopsticks" is one of the best compliment a food can get when we want to express the tenderness of the food.
There are 3 king pork cutlet restaurants in Ueno-Okachimachi area: Ponta, Horai-ya, and Isen.

Isen has very good service, and you can see the employees here works very hard. Even though the building is old, the restaurant is kept tidy and these are the reasons why it has been the most loved restaurant since its foundation on 1930.

This restaurant is also known to have invented the KatsuSando (Pork Cutlet Sandwich). For take away, the KatsuSando is available for 6pc 850yen, 9pc 1250yen.

The English menu is available at this restaurant. We recommend you to enjoy the meat being able to cut with chopsticks instead of knives and forks.
Ultimate Dish : Pork Fillet Cutlet (ヒレカツ定食)

Price : 1800 Yen
Restaurant : Isen Honten ( 井泉 本店 (いせん) ) 
Nearest Station : JR Okachimachi Station