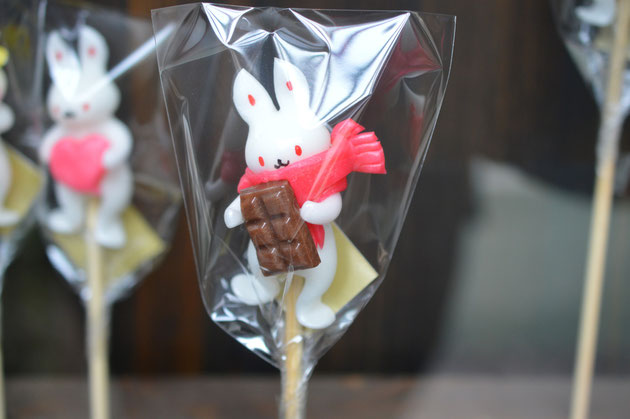 If there's one unique thing that Japanese love to give to their foreign friends and families for their souvenir other than kimonos and electric devices, it's definitely Japanese confectionery.  
Amezaiku is a wheat gluten handiwork which you can see them on the pictures that are candies fashioned in human and animal forms.  Not to mention that the making of those Japanese traditional sweets, or rather artistic sculptures, require very high techniques for the craftsman.  We were not only impressed of how sophisticated and elaborated those sweets looked like, but also impressed of how pleasantly they tasted in the mouth.  Every piece is pleasure to remember.  
Anytime is a good time to give such unique gifts for anybody.  You must not leave the shop without trying the rabbit though.  We are very sure your girl-friends will love them very much!  
Ultima Souvenir: Valentine Candy
Shop: Amezaiku Yoshihara (飴細工 吉原)
Phone: 03-6323-3319
Address:1F,Tomoe-Building,5-23-21, Sendagi, Bunkyo-ku, Tokyo
Nearest Station: From Tokyo Metro Chiyoda Line Sendagi Station 3 minute alk
Open Hour: From 12:00~19:00
Close: Mon, Tue.
Price: 315yen-3,150 yen
Credit Card: N.A.