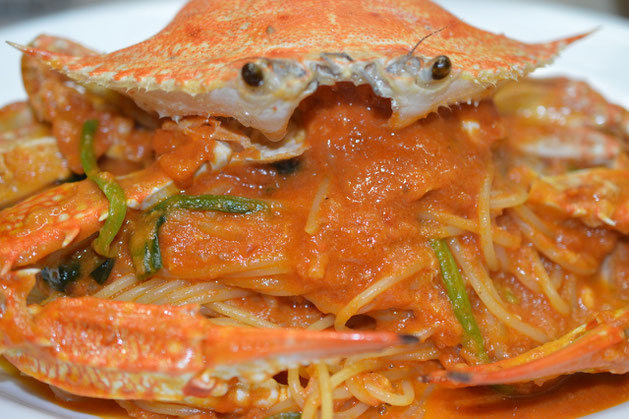 Dining out to find great restaurants is not easy, and it is rare to find Italian restaurants which offers set course (1,600 Yen) that includes the whole blue crab in its pasta (as shown on the picture) for under 2,000 Yen.  
The blue crab cream tomato sauce pasta in Tomina is exceptional and a "must order", while the fresh salad and sherbet for the dessert (and a cup of coffee or tea) in the set menu are very decent.  The restaurant is located inside Tsukiji fish market, which we can imagine that Tomina has a reliable outlet that is very professional and impeccable.  No wonder why we can enjoy such high standard quality for under 2,000 Yen which leaves everyone happy. 
The pasta has a perfect blend of the rich taste of the cream tomato sauce and the freshness of the crab.  It is undisputedly a pasta that you cannot miss out on when you are in Tsukiji fish market.  
Ultimate Dish : Blue Crab Cream Tomato Sauce Pasta (ブルークラブ クリームトマトソースパスタ)

Price : 1,600 Yen (Set Course)
Restaurant : Tomina トミーナ 
Nearest Station : Tokyo Metro Tsukiji Station