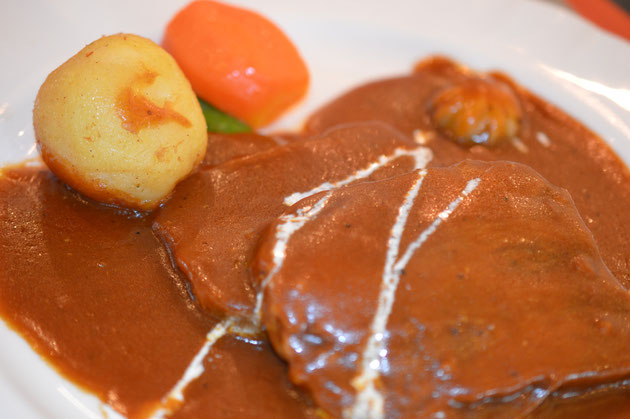 The Tongue Stew (2,700 Yen) in Kurofunetei is phenomenal.  It is definitely worth checking out around Ueno Station, which has long been a very popular spot with many Japanese politicians and famous novelists.  John Lenon and Yoko Ono have also visited here.  
The focus is the Tongue Stew but you can also enjoy other excellent food in Kurofunetei throughout the year.  It serves superior dishes like Hayashi Rice (1,520 Yen) which is a food of rice with hashed beef, Steak Bowl (2,520 Yen), which is a steak on top of the rice bowl, and other delicious dishes at very affordable prices ranging from 1,500 - 2,700 (you can also order half size in half price too).  
Overall, the food at Kurofunetei is superb.  Honest and delicious.  Not to mention that the prices are a bargain for such high quality of food.  For a meal under 3,000 Yen in such historical restaurant should be on the top of your list.
Ultimate Dish : Tongue Stew タンシチュー

Price : 2,700 Yen
Restaurant : Kurofunetei 黒船亭 
Near Station : Ueno Station