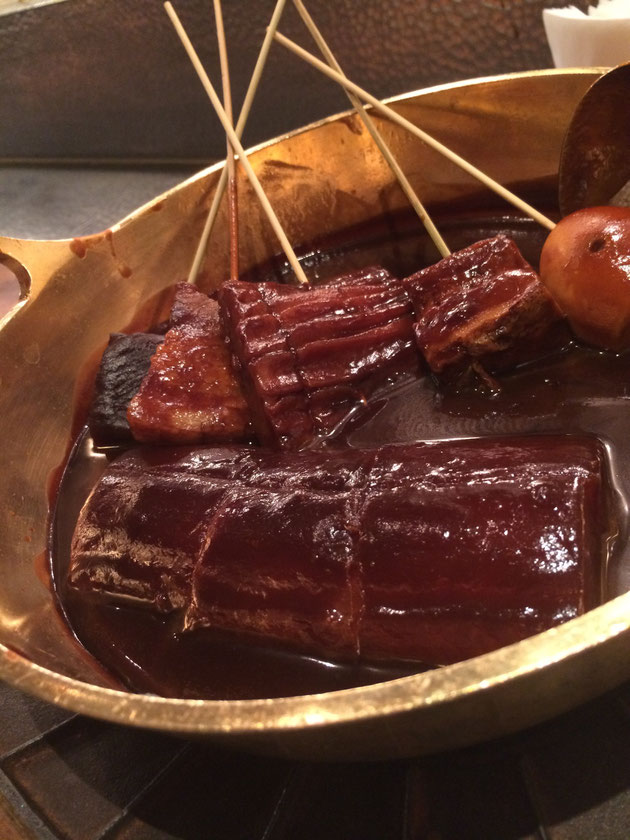 A true Japanese style cuisine in Marunouchi near Tokyo Station.  It has a very stylish and modern ambience inside well mixed with the traditional Japanese atmosphere.
When you come here, you must eat Miso Oden (1,050 Yen), that is vegetables, pork belly and various other articles of food stewed in a hot thick miso sauce.  Every bite in this bowl (Japanese radish, pork belly, eggs, etc) is a pleasure to remember especially with the Nenohi's special unprocessed Japanese sake that takes your breath away.  Almost every dish in Nenohi is unbelievably rich and fresh especially the fish and vegetables, and is also very affordable for this quality.  
I have nothing but praises for the delicious dishes at Kuroudokuriya Nenohi.  The place is located at 6th Floor of Oazo building very close to Tokyo Station.  
Ultimate Dish : Miso Oden 味噌おでん

Price : 1,050 Yen
Restaurant : Kuroudokuriya Nenohi 蔵人厨ねのひ 
Nearest Station : JR Tokyo Station